---
I got up to the north slope last week and the King Eiders were in!  Wow, they seemed to be everywhere.  This one was gleaming in the sun.  Now if you have ever been in the arctic you would know how unusual this is.  If not then let me explain.  There are 3 types of weather in the arctic; cold, windy, foggy.  Usually you get all three however every now then you get only 2 out of three.  Very rarely you get one out of three and notice that sunny did not make the list so this is a fairly rare situation.  I thoroughly enjoyed photographing these stunning birds.  They are very skittish around people as they are sea ducks that do not interact with people but during mating season they can be approachable.  Always pick the ones that are following a female around if you want to get with in any kind of range.  If you want flight photographs pick the lone drakes, they will fly.
---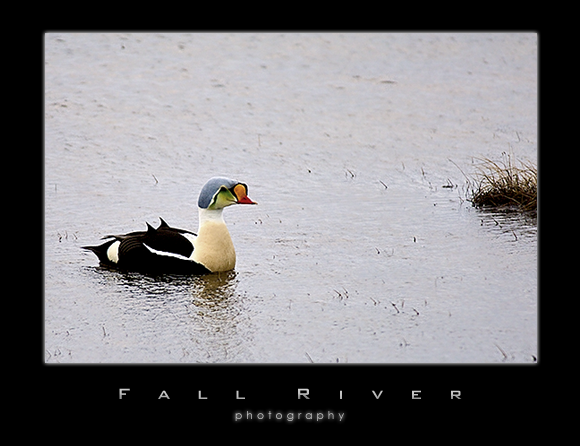 Somateria spectabilis, The King Eider is a large, ornately plumaged duck that spends the predominate portion of its life in the very far north.  Its breeding grounds in the Americas are in the Arctic and the North West Territories and it winters mostly no farther south than the Aleutian Islands.  In addition it spends the predominate portion of its life out on the remote northern waters and therefore is not easily observable.
The King Eider population migrates very early, sometimes to their own detriment, flying across the tundra in flocks reported at up to 113,000 in one half hour period.  Now these birds fly at about 60 km/hr at less than 100 meters off the ground.  Imagine yourself on the Arctic tundra with over one hundred thousand birds, flying less than three hundred feet over your head, at forty miles an hour.  Wow.  And these migrations can fill the sky for hours, ten hours in the case of this particular report.
---