---
---
---
---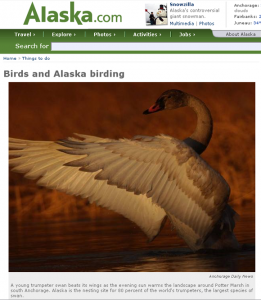 The Alaska Birding Season is heating up.  There are several resources for you to take advantage of if you are so inclined; if you are coming in from out of state the websites are great places to start.
Anchorage Audubon Society – http://www.anchorageaudubon.org/
Mat-Su Birders – http://www.matsubirders.org/index.html
Birding in Homer – http://birdinghomeralaska.org/
Birding in Fairbanks – http://www.arcticaudubon.org/
Juneau Audubon Society – http://www.juneau-audubon-society.org/
The Alaska Website with info on birding http://www.alaska.com/activities/birds/
Those are all excellent resources to begin with.  Here is some information on the bird festivals in Alaska:
The Copper River Delta Shore Bird Festival that is held in Cordova
http://cordovachamber.com/index.php?option=com_content&task=view&id=57&Itemid=44
The Kachemak Bay Shorebird Festival in Homer.
http://www.homeralaska.org/events/kachemakBayShorebirdFestival/index.htm
The Bald Eagle Festival in Haines
Sandhill Crane Festival in Fairbanks
http://www.arcticaudubon.org/crane.html
Bird Festivals are a great way to get out and see Alaska and of course the wildlife.  There are cruises that cater specifically to these festivals and to birding in general in the Bay areas and in the course of bird watching you are very likely to see a great deal of the rest of the wildlife that is present in Alaska.
---
---
---
---
---